WEIMAR REPUBLIC
My POSTCARDS
1930

Quick Links:

OFFICIAL POSTCARDS:
P189 and P210

PRINTED to PRIVATE ORDER POSTCARDS:
IPOSTA BERLIN

OTHER POSTCARDS:
BÜCHERZETTEL, POSTCARD to VIENNA, POSTCARD from GEILENKIRCHEN


--- OFFICIAL POSTCARDS ---
MICHEL P189
(POSTCARD)
Issued 1930. Picture postcard, value stamp 8Pf Ebert. Modified form of the word "Postkarte" 37mm long. Printed on soft light blue green cardboard with a border extending all around the edges of the postcards. There are 61 postcards in the series. Similar to 1929 issue Michel P188 which are on soft, cream-colored cardboard. Go to the Get to Know Germany for more in this series.



Michel P189
02

Michel P189
12




MICHEL P210
(POSTCARD)
Issued 1930. Special postcard to raise funds for the German Welfare Fund. The pre-printed stamp depicts the city of Aachen.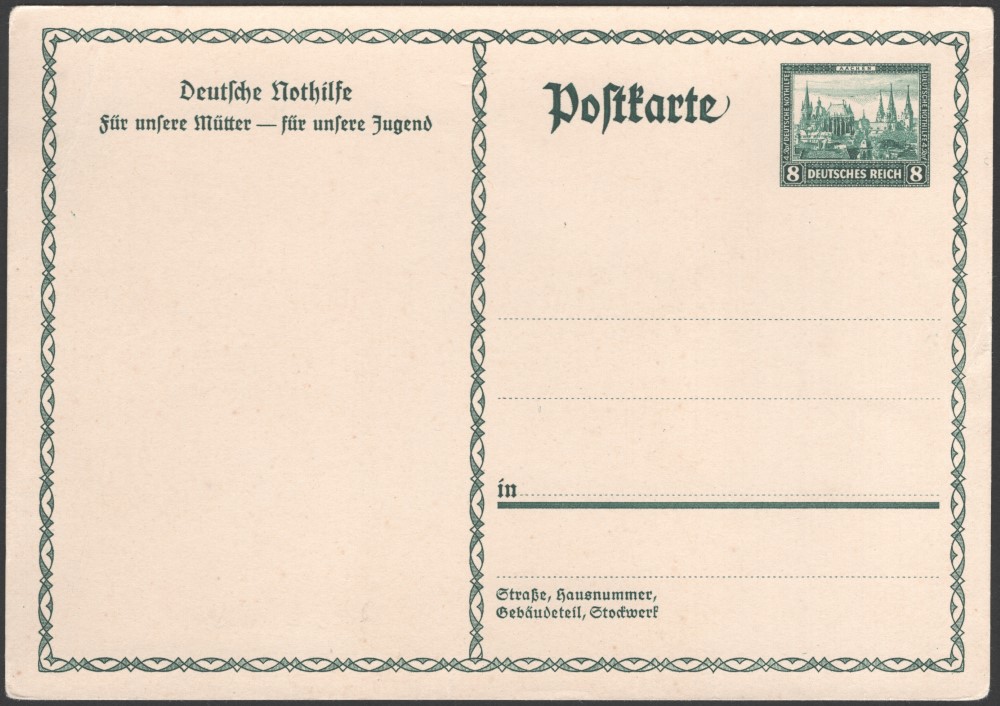 Michel P210
8Pf+4Pf dark green
--- PRINTED to PRIVATE ORDER POSTCARDS ---
IPOSTA BERLIN
(POSTCARD)
This series of seven postcards was published to commemorate the 1930 International Postal Exhibition held in Berlin from 12th to 21st Sep 1930.

Click here for more details on this series.



PP113-C-10/02

PP113-C-10/04




--- OTHER POSTCARDS ---
BÜCHERZETTEL
(28th Jan 1930)
Book slips or book order slips , as they were originally called, have been permitted in domestic traffic for printed matter fees since 25 October 1871. Book slips are pre-printed slips of paper or cards for ordering, unsubscribing or offering bookseller works, books, magazines, pictures and sheet music. It was only allowed to add information that was used to describe the ordered or offered works. There were deviations from this, so book slips were sometimes viewed as printed matter [Wikipedia].




POSTCARD BERLIN
to VIENNA
(20th May 1930)
POSTCARD from GEILENKIRCHEN
(7th Oct 1930)
This page was last updated
10-Jun-2021 08:20