WEIMAR REPUBLIC

MISCELLANEOUS POSTCARDS


1931

The 1930 postcard page has now been split into four separate pages as it was beginning to get unwieldy. All 1930 Official postcards are now on this page. Official postcards are cards that were issued by the Reich's post office, had pre-printed (indicia) stamps and were widely available throughout German towns and cities.

Secondly Printed to Private Order postcards are postcards that were generally issued by entities that were advertising an event or commemorating an anniversary, and also had pre-printed stamps, but were not widely available throughout Germany (most were only available at the event they were commemorating).

Thirdly Other postcards are postcards that fall into the same general category as printed to private order however they do not have pre-printed stamps.

Finally, Miscellaneous postcards is where you will find postcards that do not fit into the first three categories (i.e. they are not official, they do not have pre-printed stamps, and they do not commemorate an event).

Quick Links:
STUTTGART YOUTH HOSTEL and ZEPPELIN POSTCARD


STUTTGART
(22nd Mar 1931)
This RPPC features the Youth Hostel in Stuttgart, and was posted on 22nd Mar 1931 from Stuttgart to London, England. The sender applied a single Michel 412 Ebert stamp. Apparently this was insufficient to cover the cost of postage and the recipient had to pay 1½ pence extra to cover the deficit. There are two postage due stamps which indicates the extra payment was made.



POSTCARD to LONDON
FROM MY COLLECTION
ZEPPELIN POSTCARD
LZ127 GRAF ZEPPELIN
(12th Jul 1931)
This postcard was carried onboard the Graf Zeppelin on a flight from Friedrichshafen to Vienna on the 12th Jul 1931. The blue triangular special cancel used on this flight is inscribed "LUFTSCHIFF | GRAF ZEPPELIN | LANDUNGSFAHRT NACH WIEN 1931".

There is a second special cancel, this time circular, that is inscribed "ÖSTERREICHFAHRT LUFTSCHIFF | "GRAF ZEPPELIN" 1931 | 1 WIEN 1", one of two special circular cancels available on this flight.

The value stamp is a 1928 Michel No.455 1 Mark Zeppelin airmail stamp.

The card is addressed to a Mr Walter Behrens of Braunsweig, a graphic artist who was drafted into the German Army in 1939 until injury forced his decommisioning. He was born on 25th Oct 1911 and died on 11th Aug 1999 in Vienna.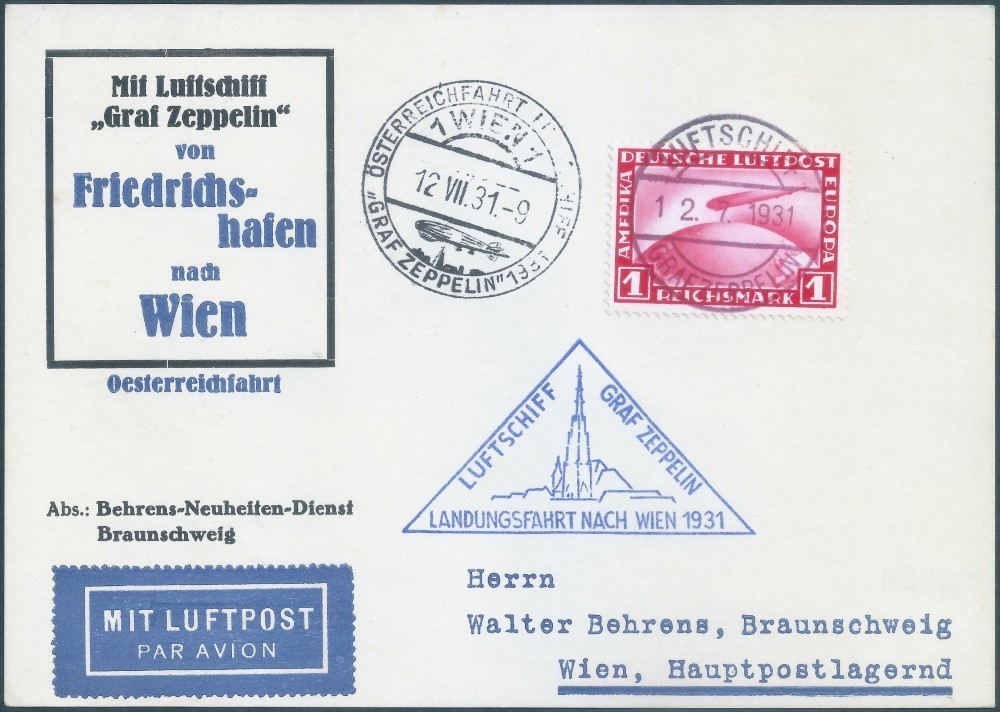 This page was last updated
30-Aug-2021 08:31