GERMAN EMPIRE
OFFICIAL POSTCARDS


Please note the following for this website. Official Postcards are defined as:

1. Postcards of the German Empire issued by the Official German postal Authority, from 1873 until 1945.

2. Postcards that were generally available throughout the entire country and have a pre-printed (Indicia) stamp to cover the cost of postage.

The vast majority of official postcards have no printing on the reverse side so no image of the reverse side is provided, except in the few instances where there was something printed on the reverse of the card.



P306
(POSTCARD)
Issued: 3rd Oct 1941. Special postcard to commemorate the 6th Reichsbund Day of the Reichsbund der Philatelisten. The value stamp features a 3Pf Hitler Head Medallion pre-printed stamp surrounded by a laurel wreath. The image on the left-hand pane is that of Michel 662, the stamp issued to commemorate the Anschluss with Austria.

A P306 must have the following characteristics:
(1) 3Pf Brown, Adolf Hitler head surrounded by laurel wreath, pre-printed stamp.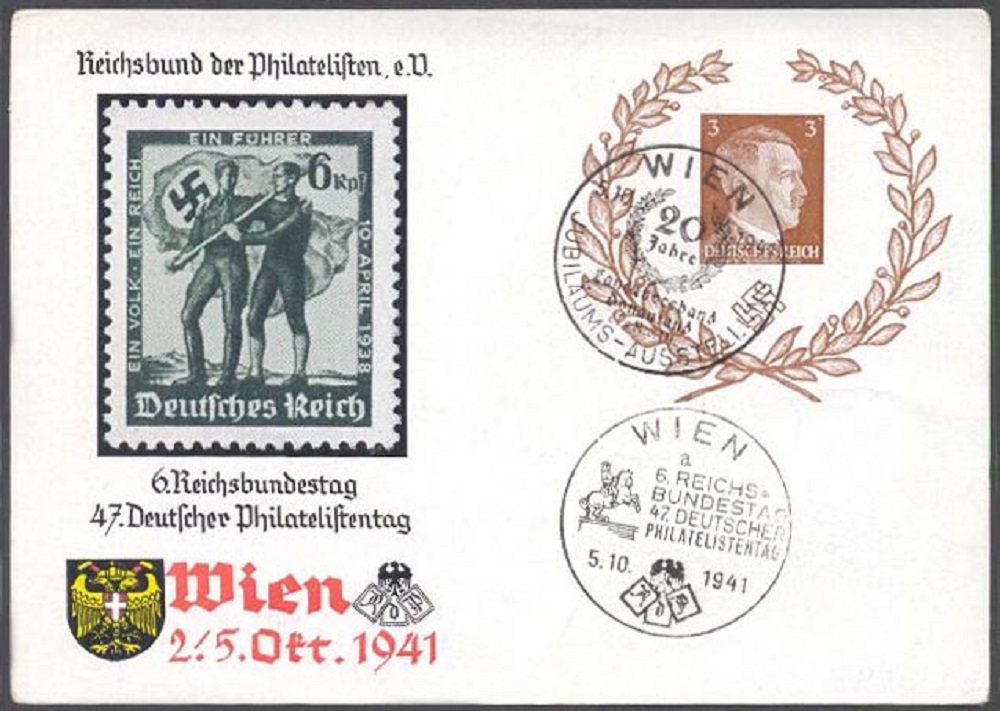 P308
(POSTCARD)
Issued: 11th Jan 1942. This series of 4 postcards was issued to celebrate The Day of the Stamp 1942.

A P308 must have the following characteristics:
(1) The value stamp depicts a 6Pf brown, olive-brown Adolf Hitler head pre-printed stamp. And
(2) The left-hand pane shows an image of one of the branches of the Armed Forces



P308/01
POSTCARD

P308/02
POSTCARD




P308/03
POSTCARD

P308/04
POSTCARD





MAIN REFERENCE SOURCES
1. MICHEL GANZSACHEN DEUTSCHLAND 2018. ISBN: 978-3-95402-225-0
2. BOREK GANZSACHEN-SPEZIAL-KATALOG DEUTSCHLAND ab 1933. ISBN: 3-87091-060-7
3. MICHEL BILDPOSTKARTEN- UND MOTIVGANSACHEN KATALOG DEUTSCHLAND 1997. ISBN: 3-87858-631-0
4. GANZSACHEN-HANDBUCH DES "DITTEN REICHES" 1933-1945 by FRECH. ISBN: UNKNOWN





This page was last updated
22-Jan-2021 06:22