GERMAN COLONIES
NEU-GUINEA
PRIVATE ISSUE POSTCARDS


The following postcards are a random selection of private issue postcards that feature Neu-Guinea subjects and were available during the German occupation.


NEU-GUINEA NATIVE
This private postcard is inscribed 'Neuguinea | Typ eines Papua'. The reverse of the card shows it was printed by 'Missionshaus Barmen' and has a number 7014. Missionhaus Barmen was a missionary group that established missions in many of the German colonies, their presence in Neu-Guinea started in 1834. The Mission was front and centre during the 1858 uprising, but the missionaries were allowed to stay after the riot was suppressed in 1866. By 1900, the number of Christians in area was around 2,000.

Missionhaus Barmen was responsible for producing not only postcards but playing cards and other material that focused on the German colonies. Examples of some of the material they produced can be found at Reichscolonialamt.de.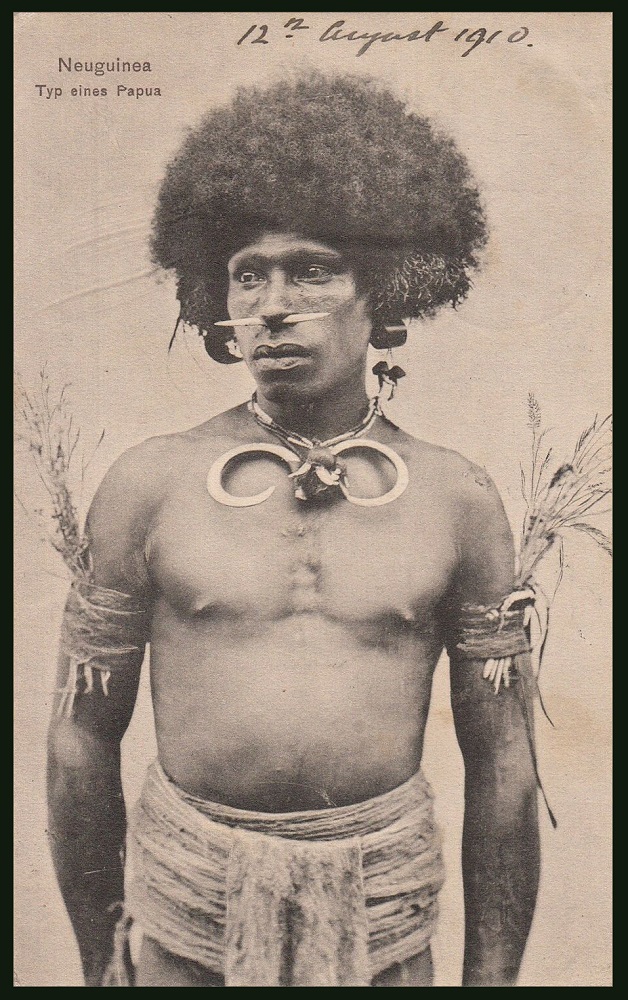 NEU-GUINEA SCENE

NEU-GUINEA VILLAGE SCENE
This postcard features a village scene in German Neuguinea. The postcard is part of a series produced under the 'Unsere Kolonien' or 'Our Colonies' series from the Reichskolonialbund, also known as the RKB. It was produced after 1933 and not during the colonial period itself, with the aim of generating interest in reclaiming the former German colonies (Neu-Guinea had been ceeded to the victorious allies at the end of the First World War).


The text on the reverse side, at the bottom left-hand side, states:

'Der Reinertrag dieser Postkartenserie ist für die Erhaltung des Deutschtums und der Deutschen Schulen in den unter fremder Mandats-Verwaltung stehenden Deutschen Kolonien in Afrika und in der Südsee bestimmt'

'The net income of this series of postcards is intended for the preservation of Germanism and German schools in the German colonies in Africa and in the South Pacific under foreign mandate administration'.



This page was last updated
21-Jul-2020 10:43