GERMAN COLONIES
OST-AFRIKA
My POSTCARDS & COVERS


Quicklinks: Official Postcards, Private Postcards



OFFICIAL POSTCARDS
MICHEL P13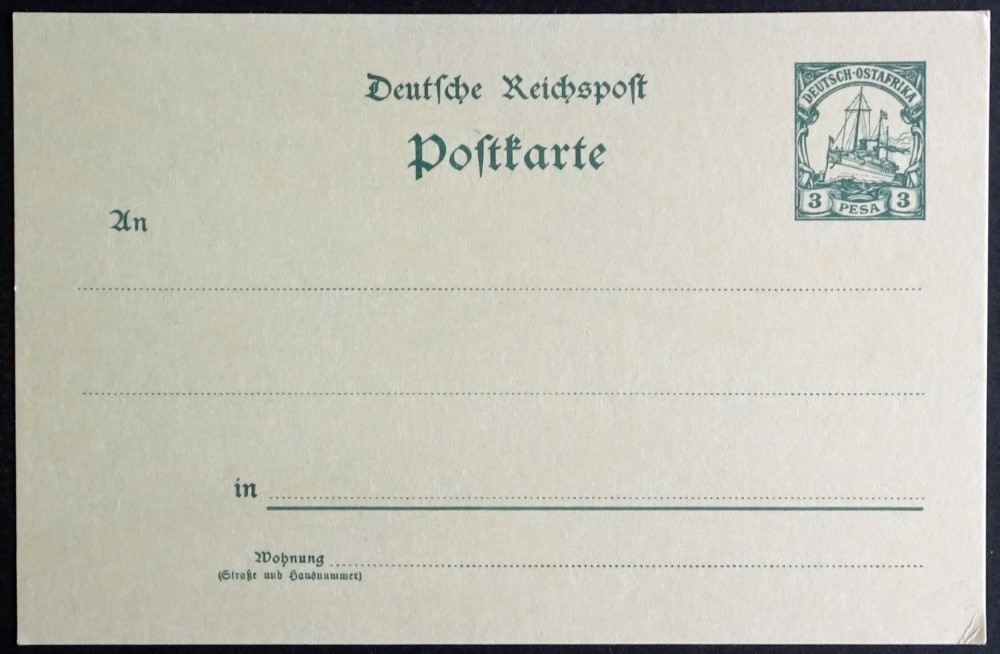 MICHEL P14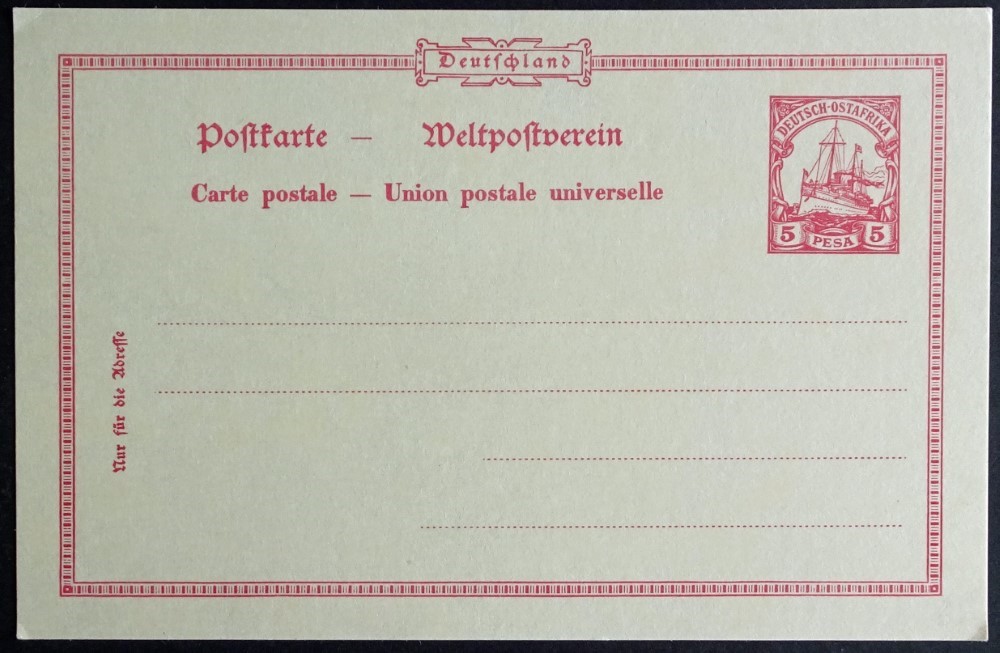 Michel P14
5 PESA carmine
MICHEL P16
Michel P16
Reply Card
2x 5 PESA carmine
MICHEL P18
This used Michel P18 postcard was sent from Kilwa to Leipzig on 3rd Aug 1905 and detoured via Dar-Es-Salaam along the journey.


Michel P18
4 HELLER green



Below is another used, Michel P18 Postcard, this time sent from Kilimatinde to Berlin. The postcard was sent on the 9th Dec 1907 and arrived just over a month later on 17th Jan 1908



Michel P18
4 HELLER green





PRIVATE POSTCARDS
PRIVATE 1
KOLONIALKRIEGERDANK
(COLONIAL WARRIOR THANKS)
This patriotic private postcard depicts an African Askari holding the German Empire flag ready to defend the colony for Germany.


Askaris were Sudanese and native soldiers recruited by the Germans to defend the colony from both internal and external forces. The Askari above is wearing the typical khaki uniform which dates from the original Sudanese troops of the Anglo-Egyptian army. He is wearing a distinctive 'tarbush' headgear which was worn by the Askaris of German East Africa, Togo and the Kamerun. The large symbol on the front of the tarbush is an imperial eagle dating from 1896. The tarbush was made of a light wicker frame with a khaki cover and neck curtain to protect the neck from the sun (not shown here).

The Askari is also wearing a standard issue 5 button tunic, with a stand-and-fall collar, shoulder straps and without pockets. The uniform is finished off with trousers, putees and boots.

His weapon is likely the newly introduced Gewehr 98 (G98, Gew 98 or M98), a German bolt action rifle made by Mauser, firing cartridges from a 5-round internal clip-loaded magazine, which was in service with the German Army from 1898 to 1935.


PRIVATE 2
KOLONIALKRIEGER SPENDE
(COLONIAL WARRIOR FUND)
German troops on horseback supported by Askari's transfer a couple of disassembled canons through the rugged East African terrain. Although this postcard is a colonial postcard it was cancelled in Berlin on 29th Jan 1920 and destined for a local Berlin address.




PRIVATE 3
KOLONIALKRIEGER SPENDE
(COLONIAL WARRIOR FUND)
Askari's pull a large canon into position whilst two German officers look on. This canon doesn't seem to be of the same type as the postcard above as it is much larger. More research is needed into the type of weapons available to the colonial forces in East Africa.




PRIVATE 4
PRIVATE 5
Askari troops under fire from native forces, possibly during the Abushi Rebellion (1888-1890) but more likely the HeHe Rebellion (1891-1898) or the Maji-Maji Rebellion (1905-1907).





Dar es SALAAM
This locally printed private postcard depicts two scenes from the city of Dar-es-Salaam. The card has three cancels which were added along the journey from Dar-es-Salaam to Brussels in Belgium (Dar-es-Salaam, Ujiji and Brussels). The stamp is no longer present and the original postmark is not readable.



Private Postcard from Dar-es-Salaam




MILITARY STATION - UJIJI
Private Postcard from Ujiji
MILITARY STATION - KILIMATINDE
Private Postcard from Kilimatinde
Dar es SALAAM
Private Postcard from Dar-es-Salaam
DAR ES SALAAM
Private Postcard from Dar-es-Salaam

This page was last updated
17-Aug-2020 11:47